A personal note from the author, Kim Perell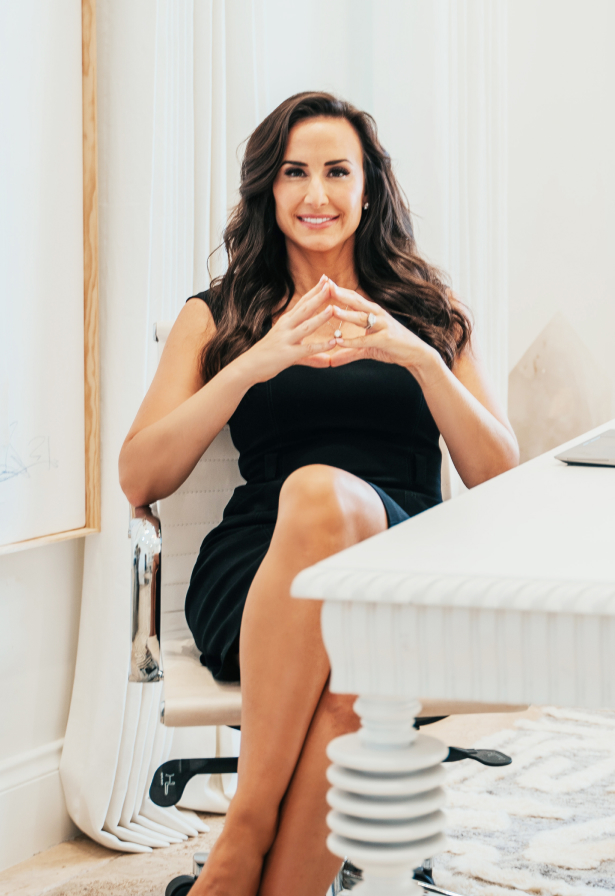 I want to help you take a life-changing leap
Are you hungry for a new career, ready to start a business, or eager to feel less stuck?
Then you know the next step you have to take is actually not just a step, but a … JUMP! A big leap into the unknown. It's a move that changed my life, and it can change yours too.
I wrote JUMP to help guide you through the life-changing decisions you want to make.
Master the simple, successful formula for facing fear head on, ditching the excuses, and finding the courage to Jump into the next chapter of your life and career.
Every great story starts with a jump.
The question is, are you ready?
I know you are. And I'm here to help.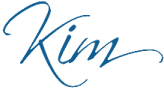 Get ready to JUMP
into the career & life of your dreams!
The expert guidance in this book will:
Encourage readers to get out of their comfort zones, overcome self-doubt, and take proactive steps to change their life.
Empower entrepreneurs with invaluable insights and the business tools to move beyond fear, rejection, and failure.
Teach individuals looking for a career change how to make calculated risks that can pay off big.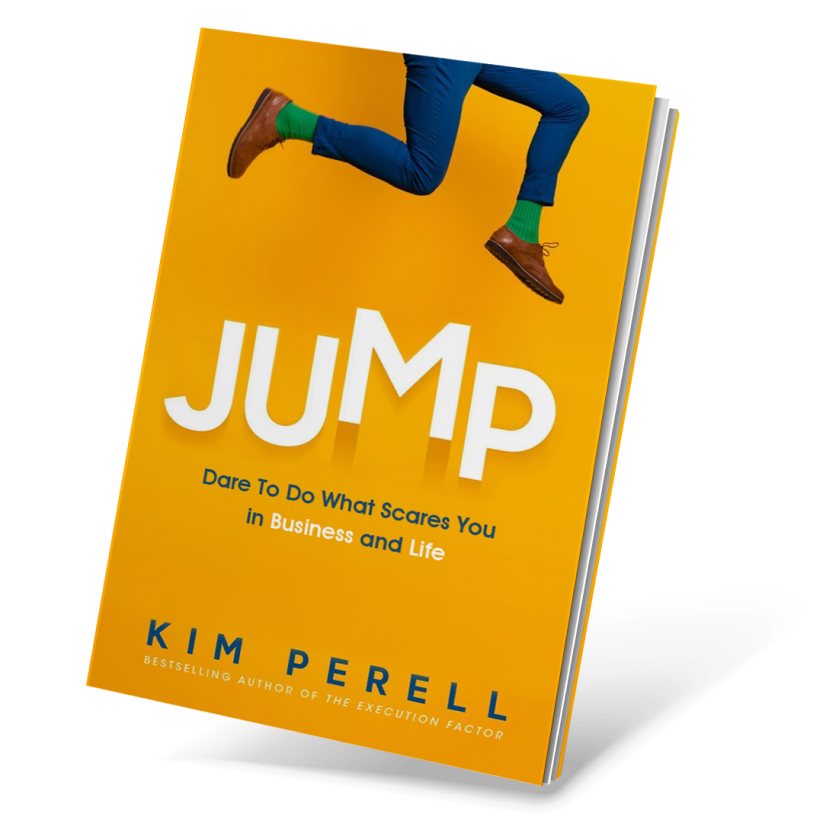 IN THIS BOOK YOU'LL LEARN HOW TO…
Understand the type of jump you want to take and how to land safely
Master your mindset, so you can delete your excuses and jump with confidence
Turn your fears into fuel and get comfortable being uncomfortable
Escape the When/Then trap and the art of calculated risk taking
Define success on your own terms
Prepare a One-Year Success Plan so you have a personal roadmap to achieving your goal
Expand your network through the art of relationship building
Overcome self-doubt and unlock your full potential
Stop caring what other people think and cut out the critics
Finally feel ready to take your life-changing leap
Order your copy of JUMP
and get instant access to your One-Year Success Plan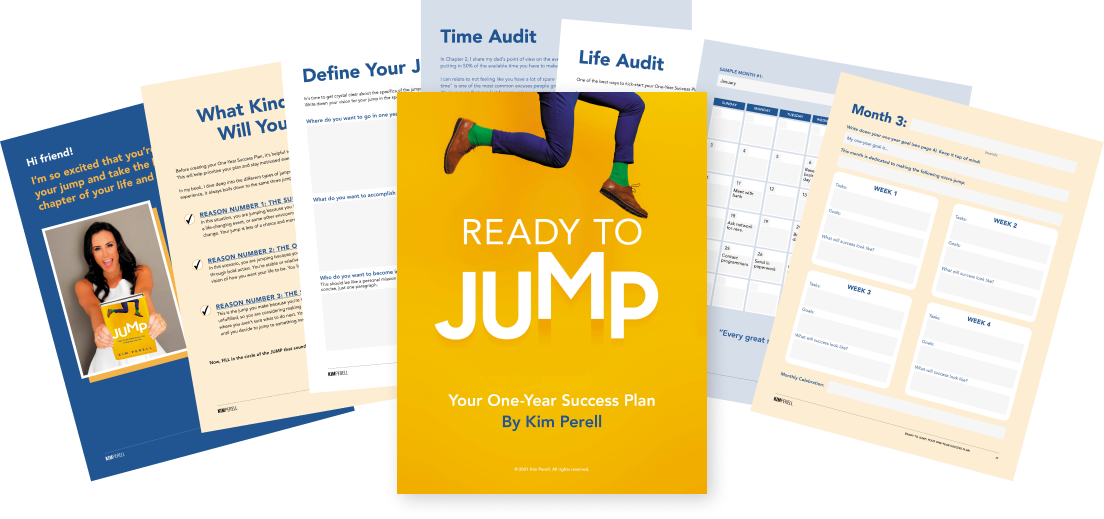 An extremely powerful and necessary read! Kim Perell codifies the step by step process for mastering the inevitable jump we all must take to live with purpose and make an impact.
Jay Shetty
#1 New York Times bestselling author of Think Like a Monk
Kim Perell is the ultimate success story! She has "jumped" multiple times and has earned the right to speak with authority. She challenges the reader to believe in themselves and walks them through the journey step by step.
John Heffner
Chairman/CEO of Summer Fridays and Former CEO of Drybar
Making a pivot isn't a choice, it's necessary for you to grow. Jump is the definitive guide to making a career pivot, and I am honored to have received Kim's personal advice during my many pivots.
Eric Toda
Global Head of Social Marketing at Facebook
Jump is the perfect read for anyone who knows deep down they're destined for more.
Terence Noonan
Six Time Emmy Award-Winning Producer
Kim's book JUMP is a must read! If you're ready to have the courage to take your life to the next level then this book is a perfect blue print for you.
Randy Garn
New York Times Best Selling Author and Entrepreneur
There is certainly no roadmap when it comes to being an entrepreneur, but Kim's new book gives an insightful and inspiring perspective to anyone looking to make a change in their life or career. Kim is fearless and she is a force that lifts others up and gives you the confidence to live out your dreams. Run, don't walk to read this book!
Rachel Zoe
Hollywood Stylist, Entrepreneur, Founder of CURATEUR and The Zoe Report
Jump unleashes your inner courage so you can reach unmatched level of personal and career success.
Bill Shaw
President, Entrepreneur Media
I have had the pleasure of working with some of the best entrepreneurs in America. Kim is not only one of them but understands how to make the right decisions and jump at the right opportunities. This book is a great tutorial on how to take charge of your life, personally and professionally.
Chris Burch
CEO of Burch Creative Capital and cofounder of Tory Burch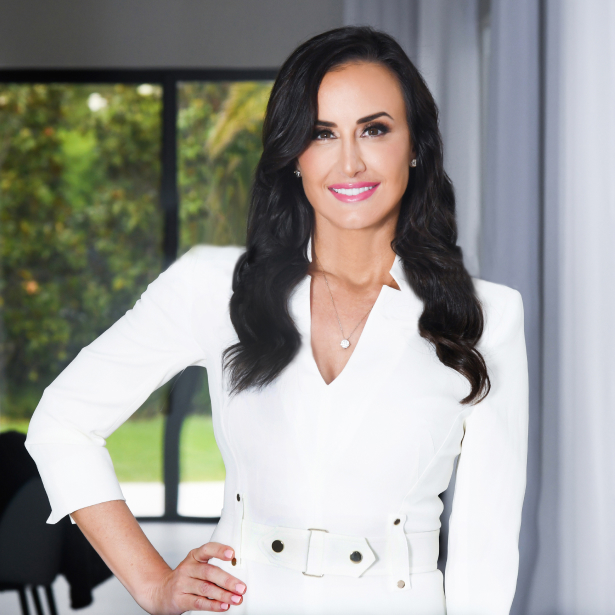 Kim Perell
is a serial entrepreneur, top US female angel investor, and bestselling author with twenty years of experience taking companies from $0 to $1 billion in annual sales. She sold her last company for $235 million after going broke 10 years earlier. A great believer in paying it forward, Kim is an investor in over 100 companies. She is currently the founder and CEO of
100.co
, pursuing her mission to reinvent how consumer brands are created using Artificial Intelligence.
Kim has been named one of AdAge's Marketing Technology Trailblazers, Business Insider's Most Powerful Women in Mobile Advertising, and Entrepreneur of the Year by the National Association of Female Executives. She has been profiled by The New York Times, Forbes, and more. She lives with her husband and two sets of twins in Miami.
Are you ready to JUMP into the career & life of your dreams?
Order bestselling author Kim Perell's new book now!